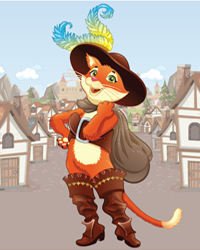 PUSS IN BOOTS: THE PANTO
When
Runs from Wednesday November 22 2023 to Sunday December 3 2023
Venue
Event Notes
×
A Community Organized event - Presented by:
Fraser Valley Musical Theatre
Poor Jack! His father, the miller, has died and left most of his fortune to Jack's ne'er-do-well brothers. All Jack gets is a pussycat. But what a pussycat! With Puss's help, Jack meets and woos a beautiful princess. Her parents, the King and Queen, want a worthy husband for their daughter, so Puss helps win them over, too. But when a nasty ogre claims the princess for his own, everyone is shaken to their boots. Will Puss lead them all to victory? Even when Jack's brothers are forced to do the ogre's bidding? Find out at Fraser Valley Musical Theatre's Christmas Pantomime, Puss In Boots!
On behalf of Fraser Valley Musical Theatre, we are letting patrons know that the company is conducting a toy drive in partnership with the Surrey Christmas Bureau and are accepting donations of toys in the lobby at the Arts Centre during the current run of their Panto.