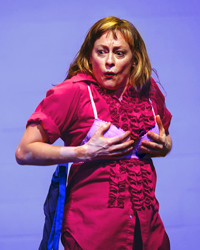 BODY PARTS
When
Runs from Friday April 26 2024 to Saturday April 27 2024
Venue
Event Notes
×
A Surrey Civic Theatres Presentation
Body Parts
is the hilarious one-woman show from veteran artist,
Tara Cheyenne Friedenberg
in which she tries to perform her show but gets comically side-tracked by her own body issues. This show within a show is one that never actually starts…or does it? Part stand-up comedy, part Greek tragedy, part contemporary dance, and 100% relatable, this show leads audiences through Tara's personal landscape of body dysmorphia and self-loathing with her signature approach to performance: biting humour, insightful social commentary, and intimate honesty. Hilarious and empowering, this revelatory and joyous show invites us to enjoy the amazing things our bodies can do and laugh through the tears together.
Audience advisory: contains swear words, suggestive language, and underwear. Suggested age 13+.