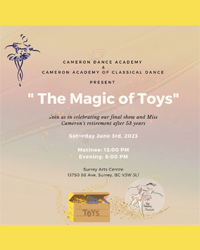 MAGIC OF TOYS
When
Runs from Saturday June 3 2023 to Saturday June 3 2023
Venue
Event Notes
×
The year-end show "The Magic of Toys" brings together two beloved themes - toys and imagination. The stage is set for an evening of whimsical performances through a magical journey including beloved playthings and classic tales evoking nostalgia. Our dancers will captivate you through the genres of Ballet, Acro, Contemporary, National Character, Jazz, Hip Hop, Lyrical, Musical Theatre and Wacking. Princesses, Princes, Fairies, Dolls even Pirates come to life through graceful ballet pieces, while Antique Dolls, Neverland take the stage for in Lyrical and Contemporary numbers. Childhood memories of Disney Princesses, Tinkerbells, Beauty and the Beast, Tea Parties, Crayons, Unicorns, Birthday presents, Flying Kites are honored through a variety of genres.
The Toy Story a Musical Theatre presentation leads us to Intermission which then offers a chance to reflect and savor the memories from Act 1. Act 2 continues with our talented dancers performing daring feats inspired by adventurous fairy tale characters and toys. The show builds to a grand finale. The Grand Finale is "Birthday Offering" bringing the show full circle and leaving the audience with a sense of wonder and nostalgia. "Time to say Goodbye" gathers our staff and dancers on stage for acknowledgements, award presentations and final goodbyes.
Join us for our unforgettable final shows of dance, music, and magic as we celebrate the enchanting world of toys and fairy tales as Miss Cameron and Miss Bennis retire from "Teaching a Love of Dance that lasts a Lifetime" with the closure of Cameron Dance Academy.