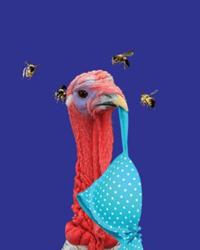 THE BIRDS & THE BEES
When
Runs from Wednesday October 11 2023 to Saturday October 21 2023
Venue
Event Notes
×
BY MARK CRAWFORD | An Arts Club On Tour Production
The Birds and the Bees
had the Arts Club audience screaming with laughter and applauding enthusiastically on opening night."—Vancouver Sun
Sarah, a turkey farmer, has just left her husband and moved back home to live with her mom, Gail, a divorcée of twenty years. Gail's a beekeeper and she has other things to worry about—like why her honeybees are dropping dead. Gail's friend and neighbour, Earl, has been keeping himself mighty busy with the ladies, but Gail has just never really got back on that horse…so to speak. And finally, there's Ben: an athletic 23-year-old master's student, here to study the collapsing bee colonies. Secretly still a virgin, he's about to get a big lesson in pollination…if you know what we mean. Set in two adjoining bedrooms on a modern Canadian farm, the play tackles sex, love, science, family, and the artificial insemination of turkeys.
The Birds and the Bees
is a laugh-out-loud comedy with brains…and a huge, honeyed heart.
Audience advisory: The Birds and the Bees contains partial nudity, depictions of sexuality, mature themes and strong language. Theatrical devices such as water-based stage fog, and strobe lighting may occur. Programming, casting, dates, and prices are subject to change. Prices include taxes and facility fees.