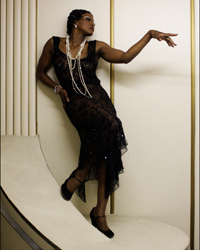 JOSEPHINE: A BURLESQUE CABARET DREAM PLAY
When
Runs from Saturday October 30 2021 to Saturday October 30 2021
Venue
Event Notes
×
This one-woman musical tells the story of Josephine Baker, the first African American international superstar, and one of the 20th century's most formidable icons. Born in St. Louis in 1906, Josephine rose to fame after moving to Europe, where she shattered race, gender, and sexuality stereotypes that included: sharing top billing alongside white romantic leading men in movies, multiple interracial marriages and same sex relationships, performing drag before the term was even common lexicon, becoming a spy in World War II, civil rights activist, and mother to 12 adopted children.
Josephine's fascinating and remarkable life story is brought to life in a dazzling display of talent by Tymisha Harris, who also co-wrote the show. Josephine is a tour-de-force show that will leave you inspired and uplifted by a legendary and fearless woman, who was truly light years ahead of her time.
Audience Advisory: Josephine is intended for adult audiences as the show contains adult content and nudity.