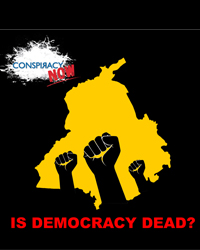 CONSPIRACY NOW: IS DEMOCRACY DEAD?
When
Runs from Thursday September 23 2021 to Sunday September 26 2021
Venue
Event Notes
×
Why be an audience when you can be a participant? Part interactive game, part social discussion, part theatrical performance, come enjoy theatre like you've never experienced it before!
Through the lens of social media, Conspiracy Now: Is Democracy Dead? examines global movements like the Farmer Protests in India to see how and why social media manipulates and separates us. Through real-world examples, games and discussions, each participant will have the opportunity to dissect the issues, connect with others, and participate in more nuanced conversations about important issues. Thought-provoking and fun, this game-play style of theatre is sure to be a performance you remember for a very long time.
About Theatre Conspiracy
Theatre Conspiracy creates theatrical events that activate discussion on vital contemporary themes in the international conversation. They provide a platform for artists creating contemporary work for the stage, and for media to investigate new directions in society, politics, and culture.
Theatre Conspiracy is committed to enhancing a rich dialogue between the city, the province, and the international community. They are committed to working with other arts organizations and community leaders to achieve artistic excellence, engage audiences, raise the profile of theatre, and share resources. Theatre Conspiracy was incorporated in 1995 and is co-lead by Tim Carlson, David Mesiha and Gavan Cheema.