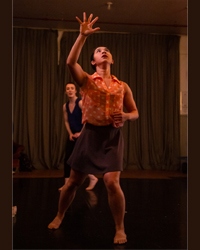 WHALLEY, WHAT?? FEATURING EMERGENCY!!
When
Runs from Friday September 10 2021 to Friday September 10 2021
Venue
Event Notes
×
Enjoy a thoughtful evening of poetry and dance in the beautiful setting of the Glades Gardens. Listen to the musings from members of the Enable: Arts Society and allow their words to paint a picture in the most stunning surroundings. The experience of growing up in Surrey is different from anywhere else in the Lower Mainland. This landscape codifies these poets' lives, history and, of course, their poetry, giving a wide plethora of world views that all emerge from this urban sprawl colonially known as Surrey. Whether Newton, Guildford, Whalley, or even stretching into North Delta, enjoy the spoken words of these talented wordsmiths across many beautiful cultures representing the diasporic reality of Surrey.
As well as listening to a diverse range of poets, the evening also features a dance piece from the Clala Dance Project. Emergency!! is a theatrical contemporary dance piece that will take you through a rollercoaster of emotions. Choreographer Tomoyo Yamada has created a relatable comedic and contemporary dance piece where four performers will take you through their dreams, memories, and hallucinations of anxious experiences in public bathrooms! This unique performance piece was originally created in 2012 and performed in Japan. Now celebrating its 10th anniversary, this performance piece has revised and updated choreography and composition, specifically designed for the Surrey Summer POP! series.
Advisory Warning: The poetry may contain adult content and language that is not suitable for children. Ages 16+ only.
Everyone requires a ticket including babes in arms. Tickets: $5–$25 Choose your price. Suggested price $20. Limited Tickets Available.