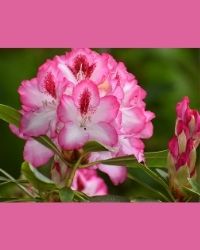 THE GLADES OPENINGS
When
Runs from Saturday May 1 2021 to Saturday June 5 2021
Venue
Event Notes
×
Take a walk in this stunning woodland garden featuring over 2,500 mature rhododendrons and a collection of heritage trees. Wander through the paths, pause by the ponds, and discover for yourself, the story of The Glades.
Each tour is 60 minutes
12 and under free but everyone is required to have a ticket; Maximum of 4 tickets per household can be purchased
Please note that pets are not permitted on site at The Glades Woodland Garden.About The Glades Gardens:
The Glades covers 15 acres and includes a new parking lot and areas for future development. The original plantings cover the 5-acre garden, and contain over 1,600 mature rhododendrons, azaleas and companion plants. Some of the rhododendrons are more than 6 metres (20 feet) tall, and are ablaze in colour in the spring. The garden also contains a superb collection of fine trees, many of which are now designated as heritage.