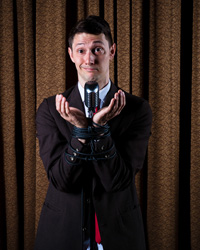 FIFTY SHADES OF VINYL: A CANADIAN PARODY
When
Runs from Friday February 12 2021 to Sunday February 28 2021
Venue
Event Notes
×
HappySad Theatre presents a loving tribute to Stuart McLean with a saucy twist. This trio of gentle parodies follows "Dale" and "Marney" as they stumble into a new chapter in their bedroom. Never scandalous, always hilarious, 50 Shades of Vinyl is as much a heartfelt homage to an iconic Canadian storyteller as it is the erotic fan fiction you never knew you needed.
Advisory Warning: Contains adult content and some coarse language; recommended 16+. Just enough adult content to make you blush, but not quite enough to make you write a letter. Recommended for anyone old enough to hear a couple naughty words without feeling too put out about it.
Show available to watch February 12 to 28, 2021.