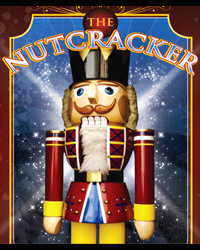 THE NUTCRACKER
When
Runs from Saturday December 14 2019 to Sunday December 15 2019
Venue
Event Notes
×
This production of The Nutcracker—a holiday tradition for many—delights all ages with its beautiful sets and extravagant costumes that illuminate the magic of the toy soldiers, Sugar Plum Fairy, and a growing Christmas tree. More than sixty talented and enthusiastic young dancers perform to Tchaikovsky's classic score with its favourites such as Waltz of the Flowers and Dance of the Mirlitons.
Running time is approximately 1 hour 45 minutes, including intermission
Presented by Royal City Youth Ballet
THE STORY
It's Christmas Eve, a time when dreams may come true. Drosselmeyer, godfather to Clara, brings gifts and magic to her parents' home for the annual Christmas party. His special gift to Clara is a large Nutcracker soldier. When she falls asleep after the party, Clara is cradling the Nutcracker in her arms and begins to dream. In her dream, her Nutcracker soldier fights a battle and transports her on a sleigh through the Land of Snow to the Land of Sweets, where she meets the Sugar Plum Fairy and people from far away lands. The ballet closes as Drosselmeyer brings Clara back from her dream, still cradling her Nutcracker soldier and treasuring her wonderful dream.