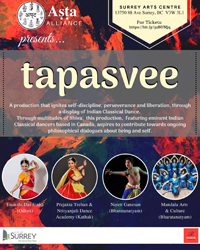 TAPASVEE
When
Occurs on Sunday August 18 2019
Venue
Performance Notes
×
Through a production on Indian Classical Dance, our aim is to explore the idea of Tapas, or self-reflection. Tapas is a concept within Indic philosophy which roughly translates to austerities. According to Sri Aurobhindo, a prominent 19th century Indian philosopher, Tapasvee, then, is someone who devotes themselves in a "fierce and strong effort of all the human powers towards any given end". In Hindu tradition, Shiva is believed to be the ultimate tapasvee, embodying the highest manifestation of agency. Using this metaphor of Shiva, we will explore the central theme of nonduality and its interpretation in the classical dance traditions of India in hopes of evoking an internal dialogue within the audience resulting in quiet introspection.
Featuring the following performing artists:
•Enakshi Sinha presenting Odissi (Toronto)
•Prajakta Trehan presenting Kathak (Surrey)
•Naren Ganesan presenting Bharatanatyam (Edmonton)
•Vidya Kotamraju, Jaylakshmi Ravindra, Ashika Narayan, Arno Kamolika, Nandini Soni, Shreeya Parekh of Mandala Arts & Culture presenting Bharatanatyam (Vancouver)
Tapasvee will conclude with a short talkback to facilitate an intimate discussion between the audience and artists.
Family friendly
Presented by ASTA Alliance Association
Running time is approximately 1 hour 30 minutes, no intermission (plus a 30 minute talkback)