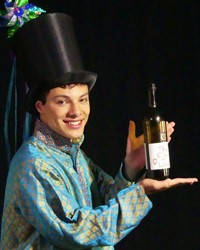 THE ELIXIR OF LOVE
When
Runs from Thursday June 20 2019 to Sunday June 23 2019
Venue
Event Notes
×
Adina is a proud, smart and beautiful estate owner. Nemorino is a young and simple estate worker and is in love with her, but she laughs at his declaration and he is dejected. When he learns of how the fabled Tristan used a magic love potion to win his beloved Isolde's heart, Nemorino decides to buy some elixir of love from a flamboyant, self-professed Doctor. The elixir is just a bottle of cheap Bordeaux, but the hilarity that ensues is only comparable to the beautiful singing that accompanies it!
The opera will be sung in English, and in admiration of the cultural diversity of the city of Surrey, set in Punjab. A fun blend of Italian opera with South Asian accents of glorious costume, exciting dance and deep tradition—and with the generous help of the local South Asian community, it is a magic blend indeed!
by Gaetano Donizetti
Running time is approximately 2 hours, including intermission
This is a General Admission performance, which means that you'll choose your seat when you enter the theatre. The theatre doors will open 1/2 hour before the start of the performance.