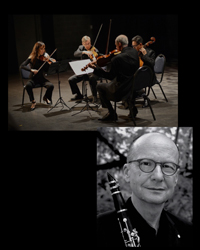 INTIMATE LETTERS
When
Occurs on Sunday March 17 2019
Venue
Performance Notes
×
Curious about musical intimacy? This concert will provide an intimate but transformational experience exploring the musical diversity and global perspective of an evolving musical journey. One of the most dynamic and exciting world-class ensembles of its generation—the Borealis String Quartet—in residence at Kwantlen Polytechnic University (KPU), is premiering a unique program that brings audiences back to an era from the early Renaissance and through to a modern day composition of our own and local BC composer.
Intimate Letters came out of the Quartet's ongoing quest for exploring the dynamic musical expression that occurs within the intimate chamber music setting. "It is fascinating to experience our world through sound and musical spirit," said violinist Yuel Yawney. "This concert communicates numerous distinctive sonic expressions through the interactive dialogue between musicians." Comprised of Patricia Shih and Yuel Yawney on violins, Nikita Pogrebnoy on viola, and Sungyong Lim on cello, the Borealis String Quartet has received international critical acclaim; praised for their fiery performances, passionate style, and refined, musical interpretation.
Joining them on this program is the world-renown Canadian clarinetist, James Campbell, a musician of the highest musical integrity and artistic level. The concert features Mr. Campbell in Mozart's sublime Clarinet Quintet, K.581 and in a performance of the jazz-inspired clarinet quintet, Suite from the Sound, by Canadian composer Allan Gilliand written especially for him.
Two works on the program by Victoria and Palestrina, convey the purity and vulnerability of Renaissance voices with intimate spiritual evocations elicited by strings and exploring a more sorrowful quality is the emotional and tragic String Quartet No. 1 by celebrated Latvian Canadian composer Imant Raminsh, a special commissioned work for the Borealis String Quartet.
Also to be performed and inspiring the theme of this program is Janáček's passionate String Quartet No. 2, Intimate Letters, his "manifesto on love," which portrays intimate musical expression with intensity and fervency.
Presented by Borealis String Quartet Society