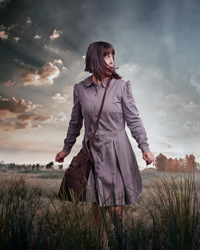 CHILDREN OF GOD
When
Runs from Friday March 22 2019 to Saturday March 23 2019
Venue
Performance Notes
×
Sometimes theatre can be about creating a safe space to explore things outside our comfort zone that we might want to better understand. Children of God is a thought-provoking, issue-based story that is also a compelling and engaging piece of theatre.
Children of God is a gorgeous, powerful musical about an Oji-Cree family whose children were taken away to a residential school in Northern Ontario. The story of Rita, a mother who was never let past the school's gate, and her kids, Tom and Julia, who never knew she came, pushes toward redemption. Children of God offers a thrilling blend of ancient traditions and contemporary realities, celebrating resilience and the power of the Indigenous cultural spirit.
See some scenes from the show
Children of God composer and director Corey Payette spent seven years researching, writing, and developing Children of God. In this
video
he shares the reasons why he was compelled to create it, and his hope for audiences who are touched by it. Payette says that musical theatre is a perfect genre to tell this story. "It's always been the case that musicals have a close link to Indigenous culture, where you cannot share a story without song, you cannot share a song without dance, or without that dance telling a story."
Audience advisory: swearing and sexual content. Intended for ages 14 and up. Emotional Support Workers will be available during and after the show.
Running time is approximately 2 hours 10 minutes, including intermission. There will be an opportunity to stay for a post-show conversation about Reconciliation with some members of the cast.
"Children of God transforms residential school trauma into a healing musical." — Montreal Gazette
This is a brave work, and a starting point for important conversations …see it." — The Georgia Straight
"if you see one work of theatre this year, make it this one." — Globe & Mail
An Urban Ink production | By Corey Payette