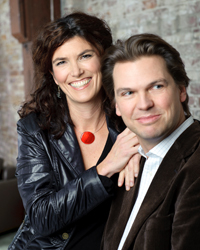 SONGS OF THE EARTH
When
Occurs on Thursday February 21 2019
Venue
Performance Notes
×
Part of the Coffee Concert Series—this is the third concert in the 2018/19 season.
Make yourself at home! When you arrive, enjoy a hot beverage and delicious treats while you visit during the social hour. Then settle in with international prize-winning pianists Elizabeth and Marcel Bergmann who are famous for their razzle-dazzle playing and wide-ranging music choices. They enjoy sharing stories and musical insights, and for most concerts invite their artist friends to perform with them. This is the Bergmann's solo concert this season.
Beethoven's evocative "Pastoral Symphony", Debussy's romantic "Symphony", the jazz-influenced "La Creation du Monde" by Milhaud, and more are dedicated to nature and its awakening.
Running time is approximately 1 hour 15 minutes, no intermission
Presented by Surrey Civic Theatres