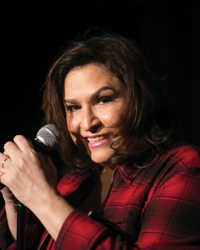 I AM WOMAN! HEAR ME LAFF!
When
Occurs on Wednesday March 6 2019
Venue
Performance Notes
×
You and your friends will be howling with laughter at the 'herlarious' stand‑up comics who are taking the stage by storm to give it up for all things witty, wacky, and womanly—all in the lead-up to International Women's Day.
Martha Chaves headlines. The featured comic is Melanie Rose. Opening for Martha and Melanie is Alison Ogilvie. Your emcee is Christine Lippa.
Audience advisory: mature themes and strong language
Running time: approximately 2 hours, including intermission