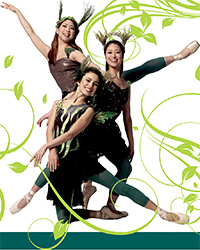 A MIDSUMMER NIGHT'S DREAM
When
Occurs on Friday June 8 2018
Venue
Performance Notes
×
Perfect for families and children of all ages, this full-length version of Shakespeare's adventurous tale features lavish sets, spritely costumes, and Felix Mendelssohn's utterly enchanting score. The ballet will be brought to life by the members of Coastal City Ballet as well as local dance students from throughout the Lower Mainland who auditioned for the opportunity to dance alongside aspiring dance artists.
The ballet's story is one of magic, mischief, and mistaken identities. Two sets of lovers have fled the city for the forest where they become entangled in a lover's quarrel between the Fairy King and Queen. Matters swiftly become more complicated with the introduction of the incorrigible Puck, a haphazardly applied love potion, and a crew of rough craftsmen attempting to rehearse a play. In the end, naturally, love conquers all and each character enjoys their happy ending.
Running time is approximately 1 hour 45 minutes, including intermission.
Presented by Coastal City Ballet