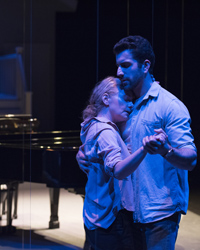 THE PIANO TEACHER
When
Runs from Wednesday October 10 2018 to Saturday October 20 2018
Venue
Performance Notes
×
Sometimes theatre can create a safe space for conversations about complicated subjects at the same time as it creates a compelling and engaging experience. In "The Piano Teacher" Erin, a concert pianist, hasn't touched a piano since her husband died. As Elaine, a piano teacher, gently reacquaints Erin with her instrument, other life changes follow. A simple update to Erin's home, for instance, brings the unexpected companionship of a contractor, Tom.
Reviewers called the premiere production in 2017 "a beautiful meditation on grief, loss, and the healing power of music" (Georgia Straight), and an "incredibly moving piece of theatre, filled with maturity and thoughtfulness" (Vancouver Presents).
About this touring production, which reunites the original actors, playwright Dorothy Dittrich said, "Now we have this beautiful opportunity to return to the story, to explore and try things that time and distance have allowed us to ruminate on, wonder about, and sometimes discover after the fact."
See the trailer
Audience advisory: Mature themes and strong language
Running time: approximately 2 hours, including intermission
An Arts Club Theatre Company production | By Dorothy Dittrich
The Piano Teacher kicks off the 2018/19 Arts Club Series at the Surrey Arts Centre with an all-Canadian lineup. Other shows are the spontaneously fun Blind Date (January 9–19, 2019) and the critically acclaimed musical tribute to Joni Mitchell Circle Game (February 20–March 2, 2019). Subscribe to all three shows and get the best seats at the best price.
Find out more