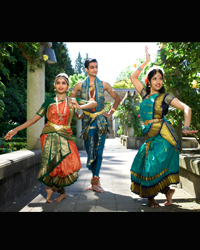 MALAVIKA
When
Occurs on Sunday August 13 2017
Venue
Event Notes
×
Part of the Monsoon Festival of Performing Arts, this is a musical dance drama performed in Hindi (with English surtitles).
An adaptation of Indian poet Kalidasa's first play, this mesmerizing love story is portrayed with a unique combination of of Kuchipudi and Garba/Raas dance forms. Captivating Hindi dialogues are intertwined with grand dances, sets, and costumes to transport the audience to an ancient mythological Indian kingdom, which is the setting for the story of King Agnimitra's love for Malavika, who is an unheard of maid in the royal palace. The diverse plot is carried forward through intense battles, sorrow, comedy, and thrilling dance sequences set to a beautiful classical Hindi soundtrack, creating a movie on stage.
The leading roles are embodied by Vancouver's Bharatanatyam stars Alex Parappilly and Ashvini Sundaram, alongside Kuchipudi enthusiast and director of the production, Savita Srinivasa. Nrityenakatha is an Indian classical dance troupe devoted to conveying rare pieces of Indian literature through the language of dance.
The Monsoon Festival of Performing Arts—with a deliberate spotlight on South Asian theatre—runs August 6 to 13 in Vancouver and Surrey.
Visit www.monsoonartsfest.ca for more details on full festival programming.