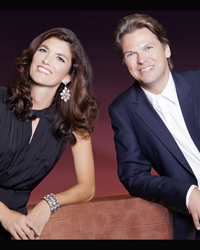 L'HISTOIRE DU TANGO
When
Occurs on Sunday April 23 2017
Venue
Event Notes
×
Tango is the focal point of this concert so be prepared for some hot and fiery music—and dance! Accompanying the Bergmann Piano Duo on a couple of selections will be dancers Deborah Lynne and Santiago Yanez, who'll infuse the music with their love and enthusiasm for transmitting the poetry and passion of Tango. The Bergmanns will also explore some other Latin and Spanish dance-inspired works. This energetic and upbeat programme will feature works by composers such as Piazzolla, De Falla, Faure, and Moszkowski. The musicians will be available for a chat after the performance.
Time: 2:30 PM social hour | 3:30 PM concert.
Running time for the concert is approximately 70 minutes, no intermission
This concert is part of the Classical Coffee Concert Series, presented by Surrey Civic Theatres.