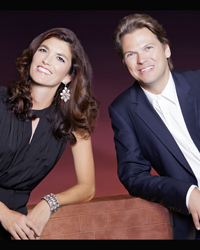 THREE'S A CROWD.....NOT!
When
Occurs on Thursday March 23 2017
Venue
Event Notes
×
Pianist Sarah Hagen joins the Bergmann Piano Duo to perform an entertaining repertoire that features their acrobatic skills. They maneuver their way through a complicated choreography with up to six hands on one keyboard. Be prepared to have fun listening and watching! Time: 10:00 AM social hour | 11:00 AM concert Running time for the concert is approximately 70 minutes, no intermission This concert is part of the Classical Coffee Concert Series, presented by Surrey Civic Theatres.