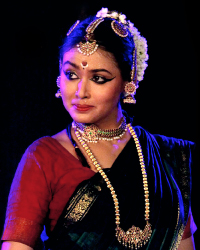 BHARATNATYAM PERFORMANCE BY RADHE JAGGI
When
Occurs on Tuesday October 29 2019
Venue
Performance Notes
×
Radhe Jaggi is a renowned Bharatanatyam dancer and will perform this classical Indian dance in support of the monumental effort currently underway to save the great Cauvery River in India.
Cauvery Calling is a first-of-its kind carefully crafted model that can revitalize rivers, revive the soil & increase farmer incomes, transforming the lives of 84 million people who depend upon the Cauvery's water.
The goal is to plant 2.4 billion trees in the Cauvery river basin, thereby replenishing the soil's nutrients and carbon content. This will turn the soil fertile and enable it to absorb rainwater & feed the Cauvery. In Government land, native tree species can be planted; while on private farmlands, farmers can shift to agroforestry that will improve the farmers' wealth five-fold in five years.
This is one of the largest and farthest reaching direct-action environmental movements in history. If we successfully implement this, it will be a game-changer for India and the whole tropical world.
Please join us in raising funds for this great cause and enjoy an enthralling performance by Radhe Jaggi supported by Vancouver based Bharatnatyam schools of Dance!
Presenter Name: Dharshana Yogarasa Event is Family Friendly Running Time: 1.5 hrs with intermission