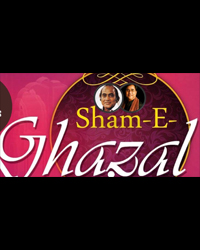 SHAM-E-GHAZAL
When
Occurs on Saturday August 3 2019
Venue
Performance Notes
×
Poetry, especially in the form of Ghazal, has always been an excellent source of inspiration. In South Asian culture, 'Ghazal' and'Ghazal Gayki' both are well known classic traditions. Two of the names that immediately come to mind while talking about 'Ghazals' are undoubtedly Shanshah-e-Ghazal, Janab Mehdi Hassan Khan Sahab and of Ghazal legend, Janab Jagjit Singh Ji. Both of these great singers made some phenomenal impacts, brought Urdu Ghazal into the modern age, and gave Urdu poetry a new identity with their soulful renditions.
You are cordially invited with your friends and families to grace us with your presence and pay tribute to these two greatest Ghazal singers of century and enjoy this amazing Sham-e-Ghazal.
Singers: Vasundhara RoGan, Sanjay Kumar, and Janab Sudhir Narain
Accompanist: Dr Bruce Harding – Flute, Raaj Srivastav – Keyboard, Coach Sandhu – Guitar, Sandy Khaira – Bass Guitar, Baljit Singh – Dilruba/Taar Shehnai and Amarjeet Singh - Tabla
Light refreshments will be served.
Doors open at 6:30pm
Presented by Naad Arts & Committee of Progressive Pakistani Canadians (CPPC)