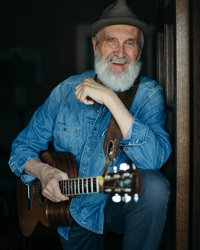 FRED PENNER
When
Occurs on Saturday February 9 2019
Venue
Performance Notes
×
Save $20 on single tickets when you buy a 4-Pack for $80. 4-Pack is available by phone (604-501-5566) or in person only.
Many of today's parents grew up with Fred Penner, watching him on CBC TV (Fred Penner's Place, 1985-1997), and singing along to "The Cat Came Back" and "Sandwiches". Fred's career as a musician and television personality has endeared him in the hearts of Canadians of all ages, and he continues to write catchy, thought-provoking tunes that kids and their parents can share and enjoy.
His family concerts are thoroughly engaging—full of positive energy, laughter and fun. So get ready to re-live some wonderful childhood memories, sing along and introduce the incredible Mr. Penner to the next generation.
A strong believer in the value of music and the arts for all ages, Fred also tours colleges and universities to re-connect with his Generation Y fans. We're his only stop in Metro Vancouver this time around, and you don't need kids of your own to join in on the fun.
Fred will do a meet-and-greet after the performance.
Take the music home—buy a CD or two.
Suggested ages: 4 and up
Running time: approximately 1 hour 15 minutes, no intermission