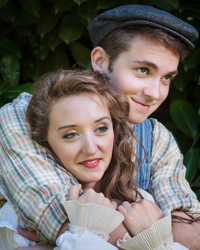 MARY'S WEDDING - Staged Reading
When
Occurs on Wednesday November 21 2018
Venue
Performance Notes
×
On the night before her wedding, Mary dreams of love, war, what was, and what could be. Her thoughts focus on her first love, Charlie, who she met by chance in a barn while seeking shelter from a prairie thunderstorm. An innocent romance develops, only to be thwarted by the turbulent times of 1914. Separated by war, Charlie sends letters from the front, and a story of love, loss, and healing emerges in a beautiful and poetic theatre experience written by one of Canada's leading playwrights.
Running time: approximately 1 hour 30 minutes, no intermission
A staged reading is a thoroughly enjoyable way to experience a play. With no sets and costumes, engage your imagination to create the play in your own mind while hearing it read by talented actors.
A Peninsula Productions production | Written by Stephen Massicotte | Directed by Wendy Bollard