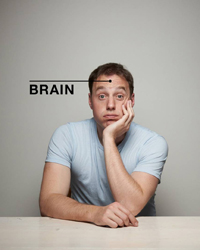 BRAIN & OTHER STORIES
When
Occurs on Friday February 1 2019
Venue
Performance Notes
×
Come for a two-part performance by spoken word artist, former Canadian poetry SLAM champ, theatre artist, and musician Brendan McLeod.
Brain is an upbeat, intense story about the miracle of the mind. It's Brendan's hilarious and heart-breaking monologue that maps his experiences with obsessive compulsive disorder—from a teenager struggling to understand his obsessions, to an adult battling psychosis. Brendan also sees a bigger picture, about the nature of thought and the importance of friendship.
See some clips from the show
After intermission, Brendan changes gears and performs original stories, songs, and poems.
"McLeod is so smart, his rapid fire delivery so clean and confident" The Georgia Straight
"Taking a frank, often funny look at mental illness, McLeod busts some big taboos" Winnipeg Free Press
Running time: approximately 2 hours, including intermission
Audience Advisory: Brain contains mature themes. Suitable for ages 15 and up
Written and performed by Brendan McLeod