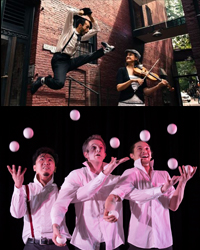 THE NEW CONFORMITY (+ ALPHONSE & LOLA)
When
Occurs on Friday November 30 2018
Venue
Performance Notes
×
Looking for a show that you can bring your kids to but is sophisticated enough for adults only? Three skilled jugglers use their tools of the trade plus martial arts to tell a story that's both touching and laugh-out-loud funny. And to start, a short dance piece where a dancer and a fiddler turn everyday situations into something laughably ridiculous.
Breaking apart preconceptions of juggling, Cause and Effect Circus uses it as the background of a touching story with silent characters and laugh-out-loud humour. Three co-workers struggle to make it through the day but disagreements over minor details spiral into chaos, bringing to light a universal struggle: the comfort of conformity vs. the freedom of individuality—told through tightly choreographed prop manipulation, martial arts, and physical theatre.
"... had the audience laughing and clapping, bringing them to their feet at the end" CFUV Victoria
Eloi Homier opens the evening in the lobby. A dance piece in the style of early 20th century silent film, Alphonse & Lola features a dancer and a fiddler turning commonplace situations into the laughably ridiculous.
Suggested ages: 5 and up
Running time: approximately 1 hour 20 minutes, no intermission