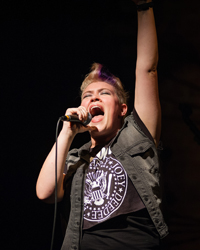 LOVE BOMB
When
Runs from Thursday November 15 2018 to Thursday November 15 2018
Venue
Performance Notes
×
Sometimes theatre can be a way to create a safe space for important conversations about complicated subjects. Love Bomb is an example of a provocative, issue-based story that is also a compelling and engaging piece of theatre.
Love Bomb takes an intimate and emotionally brave look at sex trafficking of youth in Canada, which is more common than we think. The title refers to love bombing, which is a manipulative attempt to gain favour and influence with another person by showering them with lavish gifts, attention, and affection. And even someone who hasn't been trafficked might have experienced similar manipulation.
The show unfolds as a rock concert within a mystery, with clues unraveling in the songs. A young rocker named Justine is setting up for a bar gig when Lillian talks her way into the space. Lillian presents herself as a fan, but later reveals that she's searching for Nicola, her young-adult daughter, who disappeared seven months earlier.
Audience advisory: mature themes and strong language
Support workers will be available during and after the show.
Running time is approximately 1 hour 5 minutes, no intermission
Audience members are encouraged to stay for the talkback, an informal conversation with the cast and crew.
A shameless hussy production | Written by Meghan Gardiner | Music and additional lyrics by Steve Charles