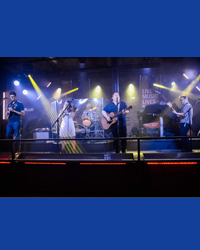 PAT CHESSELL BAND
When
Occurs on Saturday April 27 2019
Venue
Performance Notes
×
Want to go dancing but don't like the club vibe? Look no further than the Studio Theatre at Surrey Arts Centre—transformed into the club where you want to be. With hot bands, a dance floor, and a bar set up right in the Studio, you can dance the night away.
Vancouver-based Pat Chessell Band has made a name for itself as one of the most exciting live acts on the local music scene. Pat's passionate, smoky vocals are complemented by Celtic-fuelled sounds that stretch into influences of roots, folk, and country. You might have seen this popular band at Surrey's Dublin Crossing Irish Pub or at the Irish Pavilion during the 2010 Olympics. Expect to hear songs ranging from foot-stompers to heart-breakers as you dance the night away!
Take the music home—buy a CD or two.
The club closes at 10:30pm.