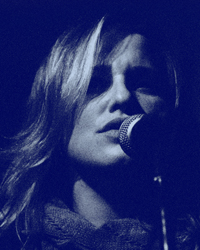 Joni Mitchell's BLUE, Merideth K Clark
When
Occurs on Wednesday March 27 2019
Venue
Performance Notes
×
Merideth Kaye Clark—"a masterful performer" with "powerhouse pipes"—performs Joni Mitchell's iconic BLUE album from beginning to end. With Merideth playing guitar and dulcimer, and accompanied by Mont Chris Hubbard, this performance will transport you to the first time you heard the album giving you the unique opportunity to experience it live.
Raine Hamilton opens the evening. Her prism-clear vocals—nestled within violin, guitar, cello, and double bass—create a resonant chamber folk sound.
Take the music home–buy a CD or two.
Merideth and Raine will do a meet-and-greet after the concert.
"Merideth captured and owned the emotional depth of the work" Gian Paul Morelli, Columbia Theatre
Running time: approximately 2 hours 15 minutes, including intermission