TWEET TWEET Friday, May 27, 2022 at 10:15 AM PDT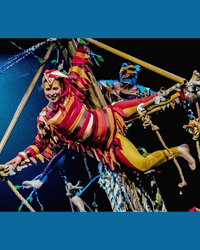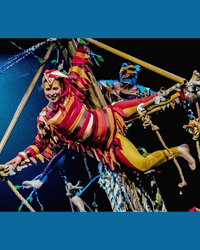 You've selected
Friday, May 27, 2022 at 10:15 AM PDT
Change Date
×
A delightfully dreamy aerial arts and circus creation for wee ones and children with sensory sensitivities. TWEET TWEET! is a contemporary circus duet performance experience that takes place in the round, meaning the audience completely surrounds the stage. This charming set features an enchanting tree with two nests and two wooden swings hanging from the branches. Performers Holly Treddenick and Lindsay Goodtimes move from the nests, and up into the aerial tree canopy through the rope tree trunk. A large forest floor carpet lies under the tree for the audience to sit and lie on. Seating is available.
Show running time: 25 minutes + 20-minute post-show 'Stay + Play' 'Stay + Play' allows parents, caregivers, and children to explore the delightful set and nestle your little one in a nest! It's a wonderful activity to engage young curious minds, and the perfect opportunity to get some adorable photos!
Venue
Studio Theatre at Surrey Arts Centre
13750 - 88 - Avenue
Surrey BC V3W 3L1
Performance Notes
A Surrey Civic Theatres presentation
Serene and delightfully dreamy, a beautiful aerial arts show that everyone will love.
Pack of 4 tickets available via Box Office Phone: 604-501-5566